Channa Masala with Kale
Since eating out is difficult around here...very difficult, especially when one is trying to avoid added oil, when I got a major craving for Indian food the other night, it was either go out and try not to think about the ghee or oil added in copius amounts, or satisfy the craving here at home. Obviously, since I have a cooking blog, I have no issue with fixing stuff up at home. Someone on the Eat2Live yahoo group with impecable timing posted a recipe for Indian Spiced Chickpeas w/ Kale, which had the spices right, but I was looking for something closer to the Channa Masala, or Chhole, which is curried chickpeas with tomato and ginger, that I almost always get when we go out for Indian. Here's what I pulled together: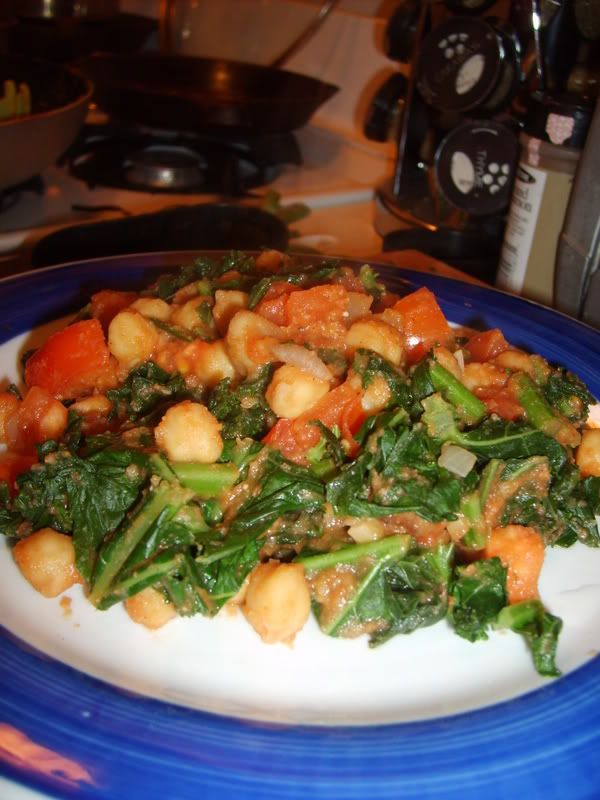 Channa Masala w/ Kale
1 cup dry chickpeas, cooked, water reserved
3 cloves garlic
1 large onion, chopped
7-8 c kale, coarsely chopped (or more if you want)
1 tsp ground coriander
1 tsp cumin
1/2 tsp garam masala seasoning (I used Penzys)
1/4 tsp cayenne
1/4 c tomato paste
2 plum tomatoes, chopped

Separate out 1/2 the onion and 1/2 the garlic. Steam-fry until carmelized. Combine 1/3-1/2 c of cooked chickpeas, the tomato paste, 1/2 of each of the spices and 1/2 the cooking water from the chickpeas in a blender and blend until it reaches a smooth consistency. Set aside.

Steam-fry the remaining onion and garlic. Add kale, chickpeas w/ remaining water, and spices. Cover and cook until thekale is bright green. Remove cover and toss to mix the kale, garlic and onion and to distribute the spices. Add the choppedtomatoes and toss again. Add the tomato/chickpea sauce and toss until the kale and chickpeas are well coated. Taste and adjust spices as needed (you may want to make it a lot hotter...this comes out pretty mild and I'm going to spice it up next time). Remove from heat and serve. Serves 2-4.
Nutrition Information (assumes 4 servings):
Amount Per Serving
Calories 259.8, Total Fat 3.3 g, Saturated Fat 0.4 g, Polyunsaturated Fat 1.4 g, Monounsaturated Fat 0.8 g, Sodium 174.9 mg, Potassium 1,064.9 mg, Total Carbohydrate 47.1 g, Dietary Fiber 11.9 g, Sugars 7.2 g, Protein 13.7 g, Vitamin A 263.2 %, Vitamin C 182.7 %, Calcium 19.1 %, Iron 30.0 %

The result is a spicy-sweet sauce coating the yummy chunky chickpeas and tomato and the chewy kale pieces...it came outclose enough to the real thing to completely satisfy my craving. This is definatly something that will be done again and again, as it is also really fast, assuming the chickpeas are precooked or canned.