Christmas Grub and stuff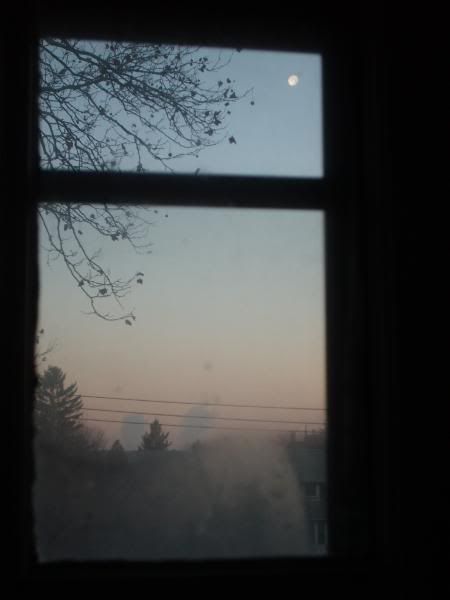 Merry (late) Christmas and Happy Holidays everyone. This was the scene that met me from the window early Christmas morning...it almost made getting up at the crack of dawn worth it!


Other than inhumanly massive amounts of cookies (seriously, I have a cookie problem!), we
actually had real food for Christmas. We spent the day with Katie's family, so we had to bring pretty much all of our food with us since I don't think there is anything in their house I can eat. But thats okay, since it was an excuse to try out a bunch of new recipes.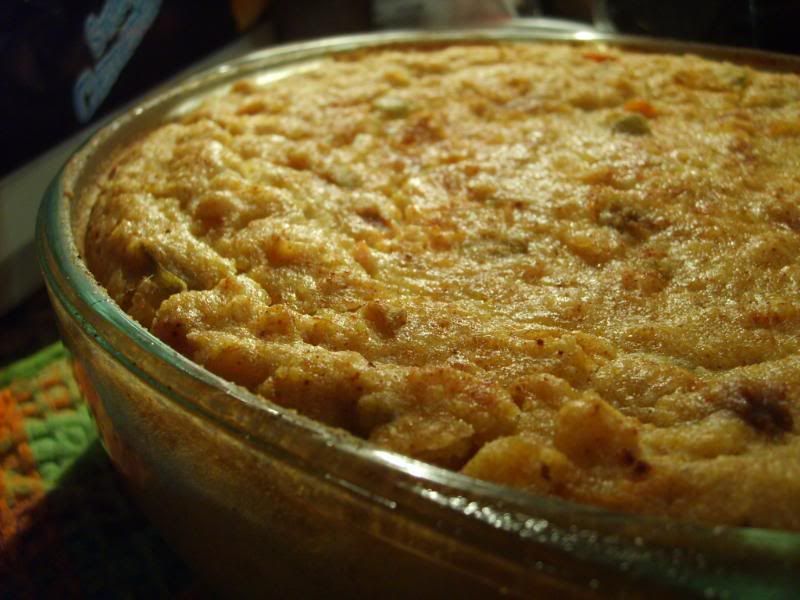 First, corn pudding. I posted the recipe for this earlier, since I made it for Thanksgiving, but this time I added green and red peppers, sauteed onion and garlic, plus some smoked paprika, cayenne and a little dried chipotle. It was quite good, but I think next time I add the veggies, I will cut down on the sugar a bit or at least seriously up the spices, because it was sort of in between a lot of flavors...not quite sweet, not quite savory, not quite spicy...but still good, so with some tweaking it may be a keeper.


Second, Collard, Pear and Caramelized Onion Casserole. A few years back, I spent several months working at Boston-area farmer's markets selling bread for a local bakery. The Massachusetts Farmer's Market Federation put out a series of recipe cards with beautiful food porn of local produce on the front and tasty recipes submitted by federation members on the back and this recipe was on one of the cards I picked up and managed to hold on to. The original recipe called for smoked gouda, but I substituted a smoky cheez sauce for the gouda with
moderate success. Definitely needs some tweaking as well, but the flavor was really good, especially as leftovers.


Collard, Pear and Caramelized Onion Casserole

1 lb collard greens, stems removed, cut into 1/2-inch strips

1 lb spanish or yellow onions, peeled and sliced 1/4-inch thick

1 lb ripe pears (2 lrg), cored and sliced 1/4-inch thick

1/3 c dried cherries

1/2 c apple cider or apple juice
2 tbsp balsamic vinegar

2 tbsp cider vinegar

1/2 tsp ground coriander

1 batch smoky cheddar cheez sauce (see below)

salt to taste
1-2 tbsp nutritional yeast
a sprinkling of smoked paprika
- In a large skillet over medium heat, saute onions in a little bit of water until carmellized, about 20 minutes. When soft, sprinkle with balsamic vinegar and let cool.
- In a large pot, cook collard greens, covered, in 1/2 c water until soft, about 8 minutes. Drain and set aside to cool.
- In a small saucepan, combine apple cider or juice with dried cherries and simmer over low heat until cherries are plump. Set aside to cool.
- In a bowl, mix well together onions, pears, collards, cherries with juice, apple cider vinegar, coriander and cheez sauce (make this right before you mix these up so it doesn't set too much to easily combine). Season with salt to taste.
- Transfer mixture to an oiled 6-cup casserole dish, sprinkle with the nutritional yeast and smoked paprika and bake at 350 degrees for about 45 minutes until pears are soft.
Smoky Cheez Sauce (modified from Bryanna Clark Grogan's Melty Pizza Cheese recipe)

1 cup water
1/4 c nutritional yeast
2 tbsp corn starch
1 tbsp tapioca starch or flour
2 tsp lemon juice
1 tsp white miso
1/8 tsp mustard powder
1/8 tsp liquid smoke
1/8 tsp garlic powder

Combine all ingredients in a blender until well blended. Will be very liquidy. Pour into a saucepan and bring to a boil over medium heat, stirring constantly, then let simmer for about 30 seconds or until it begins to thicken. Remove from heat, and immediately stir in an additional 2 tbsp water. Use immediately or can be cooled and used as a spread.

I also made a GF chocolate ginger cake...which blew. I'm not sure exactly what went wrong but lets just say that if I hadn't added chocolate chips, the cake portion would have be totally inedible. Luckily it had a tasty pecan/crystallized ginger topping that had enough flavor to compensate so it wasn't a total waste. I won't even mention the cookbook I got it from and I
didn't take any pictures.


So the two casseroles, combined with a baked sweet potato, some steamed broccoli and corn, made for a pretty awesome Christmas dinner
, as you can see below.



On the gift front, the beasties had a very good christmas. The birds got newspaper stockings filled with popcorn, which, in case you didn't know, is the best food in the whole world. Here are some shots of Tequa, Dina and Widjic enjoying gorging themselves (it looked like a popcorn massacre!)


The bunnies got a similar stocking, only stuffed with romaine lettuce and banana slices. The piggies and bearded dragons got apple and carrot slices, the kitties got trader joes "tuna for cats", aka, kitty crack, sprinkled with catnip and garnished with pogo mouse treats from their grandma. Asher got LOTS of toys, especially when he got to Katie's parent's house, where he got their dog's hand-me-downs, some of which still had squeakers! He had fun, which was good, since his other gift was being neutered and he didn't like that one nearly as much! The people members of the family got a 6-quart pressure cooker, a 22-quart pressure canner, a coffee (aka spice) grinder and a mini food processor, plus other assorted goodies. The pressure cooker (the small one...I'll try out the canner this summer) is awesome...expect some pressure cooked recipes soon.

I hope everyone had a good Christmas or whatever winter holiday you celebrate!

Labels: holiday food, pets