Asparagus! or, Why do vegans need a giant grill?
I love spring...the sun is shining (when its not raining), flowers are blooming, birds are singing, bugs are buzzing (just take a look above at the little guy I found on my baby pepper plant!) everyone is wandering around in their t-shirts, looking slightly dazed and pale...oh, yes, and my favorite food season is just getting into the swing of things. We picked up our first local asparagus at the farmer's market on Saturday! I have to admit, although I try, I'm not a very good locavore in the winter...there comes a point where one just can't force oneself to eat yet another meal of cabbage...but I draw the line at buying two things out of season; tomatoes and asparagus. Its just not worth it! Plus, the anticipation alone makes them tasty so incredible when they finally come into season. So when we saw the booths with row after row of spiky bundles of green, we snatched one up.
Originally, I intended just to lightly steam it and then sprinkle with crushed garlic and lemon juice, but then Katie suggested grilling it. You see, we got a grill for my birthday...and not just any grill, a kinda-large grill, with a side burner and one of those baking rack things so you can toast buns or bake potatoes or whatever. At first, I was thinking, 'this is a bit ridiculously large! Really, how much grilling space do we really need?" (we don't eat a lot of veggie burgers and all that), but we've used it twice so far and, both times, we managed to fill up the whole thing. To accompany the asparagus, I halved some red peppers, some mini eggplants, some mushrooms on a skewer, and some leeks, and whipped up a quick glaze made from wheat-free hoisin sauce, balsamic vinegar, a drizzle of agave nectar, garlic powder and crushed red pepper flakes. All those roasted to perfection, with the addition of some sweet potatoes wrapped in foil and placed on the above-mentioned baking rack thinger, and we had an amazing meal. I swear, I'm never going to eat sweet potatoes baked any other way again!
And the asparagus? Perfection. Slightly sweet from the glaze and slightly smoky but still crisp. I love spring.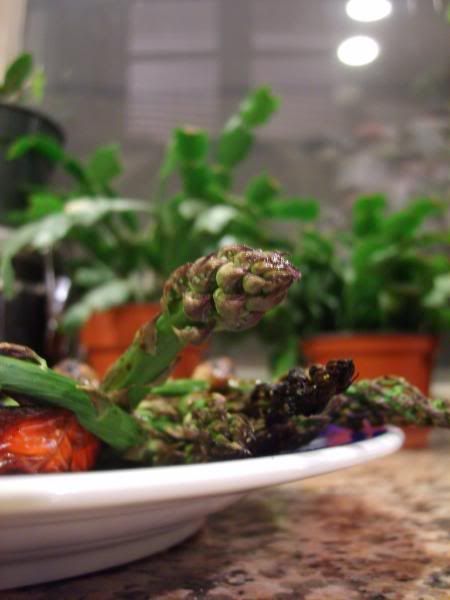 Labels: garden, gluten-free, grilling