Veggie Lasagna
Its cold, we are having new house drama (hopefully to be remedied tomorrow AM) and all I want is comfort food. Which means warm, rich goodness in whatever form my pantry/fridge yields for the day. Homemade chunky applesauce, "skillet supper" of chickpeas, beans and veggies, mixed bean soup, roasted squash...and lasagna.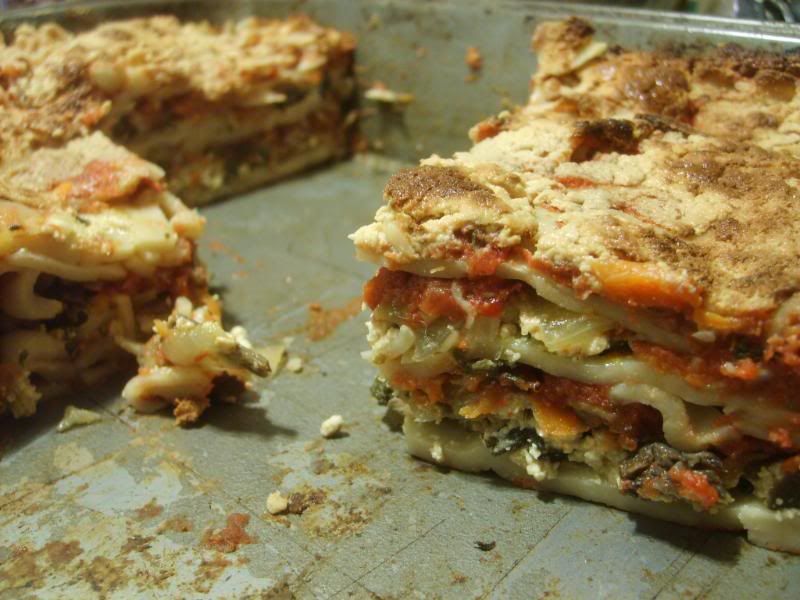 I wasn't going to post about this since its really quite basic with no "real" recipe, but the picture turned out kinda cool and the whole thing was super tasty. Basically, I layered, in this order: tomato sauce, pre-cooked brown rice pasta, tofu "ricotta" made with firm tofu, nutritional yeast, a little lemon juice, garlic and fresh (frozen) basil, with some cooked greens (in this case turnip) mixed in, sauteed veggies (carrots, mushrooms, onions and garlic) w/ seasonings, then another layer of sauce, etc. Topped with more sauce and a whole bunch of nooch then stuck in the oven at 350 for about 45 minutes, then under the broiler for another 5-10 to brown up the top. Let it set for about 15 minutes before cutting....it still kinda fell apart but tasted fine regardless. The picture's from the next day after it was in the fridge overnight and had really set well.
I really should stop self-medicating with food, but comfort food is so...comforting.
Labels: comfort food, lasagna